Template:Infobox Train
The PCC (Presidents' Conference Committee) streetcar (tram) design was first built in the United States in the 1930s. The design proved successful in its native country, and after World War II was licensed for use elsewhere in the world. The PCC car has proved to be a long lasting icon of streetcar design, and PCC cars are still in service in various places around the world.
The unusual name comes from the fact that the car was designed by a committee, formed in 1929, representing various electric street railways. The Electric Railway Presidents' Conference Committee, or ERPCC, was tasked with producing a new type of streetcar that would help fend off competition from buses and automobiles. The committee produced a high-performance design that was commonly used in the following decades. The cars were popular because of their distinctive streamlined design and smooth acceleration and braking, sometimes quoted as soft ride. The design patents were held by a business called the Transit Research Corporation, who licensed features to various streetcar manufacturers.
It turned out that, unlike many other things produced by committees, the PCC streetcar was a very good basic design. Many railways altered the car in various ways to fit their own needs, but most cars retained a standard appearance. Pittsburgh Railways took "delivery of # 100, which was by most all accounts, the first delivered PCC car in the world"[1]. The first batch of 100 cars was built in 1936 for Brooklyn, New York, by the St. Louis Car Company. The second order built (27), following Brooklyn was for Baltimore, also by St. Louis Car Company. The Los Angeles Railway (LARy) was also one of the first companies to purchase the units.
PCC's were built as "streetcars" in Washington D.C. and as "trolley cars". A streetcar, technically speaking, is not necessarily a trolley. PCC's streetcars had conduit plows which collected current from a slot between the rails into which the plow dipped, contacting positive and negative rails under the street on either side. In Washington D.C., the PCC "streetcars" became "trolley cars" at the city limits. There were "plow pits" where the plow was dropped and removed, the trolley pole put up, and the car continued, utilizing overhead wire
Production continued in North America until the early 1950s, with 4978 units built; thousands more PCCs and direct descendants were produced in Europe through the 20th century. The cars were very sturdy and many lasted a long time; well into the 1970s the majority of surviving North American streetcar systems used PCC cars, the systems which closed often selling their cars secondhand to the surviving operators. A handful still remain in service alongside modern vehicles, though most of the PCC cars functional today are operated by museums and heritage railways.
The early pre-World War II versions of these vehicles were known as air-electric cars and used a belt-driven air compressor to open the doors and operate brakes. Later "all-electric" models were entirely electric, replacing the noisy compressor and air brakes with electrically activated brakes on the motor shafts. Both pre-war and post-war cars use dynamic brakes to provide most of the stopping power. The air or electric brakes bring the car to a complete stop.
Manufacturing
Edit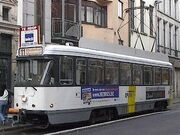 PCC cars were initially built in the United States by the St. Louis Car Company and Pullman Standard. One example was built by Clark Equipment with an aluminum body. PCC cars for Canadian cities were built jointly by St. Louis Car Co. and Canada Car and Foundry in Montreal, Quebec. The PCC technology was exported to Europe, with La Brugeoise et Nivelles (now the BN division of Bombardier) of Bruges, Belgium, building several hundred streetcars that saw service in Brussels, Antwerp, Ghent, The Hague (Den Haag), Saint-Étienne, Marseille and Belgrade (the latter city buying vehicles initially used by the Belgian Vicinal railways).
The first European PCC cars were probably the ones developed in 1942 by Italian Fiat for the Madrid tramway system. Due to the progression of World War II, delivery of the units from Italy had to be stopped, and eventually 110 cars were built in Spain to the Fiat design, either by CAF (Construcciones y Auxiliar de Ferrocarriles) in Beasain or MMC (Material Móvil y Construcciones) in Zaragoza . These units worked very successfully in Madrid until 1972.
ČKD Tatra of Prague also bought a PCC licence, and built thousands of PCC based streetcars. Most successful was type Tatra T3, 13 991 units were sold worldwide, mainly in former eastern bloc countries. ČKD had begun marketing to the rest of the world until 2000, when the company faced a bankruptcy and reorganization. The tram business was sold to Siemens SKV, who discontinued these products in favor of Siemens-designed models.
Another Eastern European company producing PCC cars (though not licensed) was Polish Konstal in Chorzów, Upper Silesia. The Konstal 13N type was a copy of the CKD Tatra T1 and is still used in Warsaw. Newer Konstal 105N types, produced since 1973, had the PCC electrical set. After many modernizations, the upgraded type Konstal 105Na and later versions based on it are still produced (though with modern electronic equipment) by Konstal, which was bought by Alstom in 1997. 105Na generation cars are still used in all tram-towns in Poland.
Largest Fleets
Edit
The three largest operators of PCCs in the world were:
These three all operated East European versions of the original PCC design and specifications.
In North America the four largest fleets were in:
Chicago 683 (later converted to rapid transit cars
Exportation
Edit
Some PCC cars were also exported throughout the world, and in Latin America, although not in great numbers, to Mexico and Buenos Aires particularly, in Buenos Aires they ran through exclusive right of ways on the suburban Urquiza Line for a while, these were modified at the ends to operate in two, three or four-sectioned articulated formations like most modern LRVs.
Toronto sold their earlier PCCs to Alexandria, Egypt from 1966 to 1968. These cars remained in operation until 1984.
PCCs still in active service
Edit
North America
Edit
In North America, most PCC-based systems were dismantled in the post-war period in favor of bus-based transit networks. Of the rail transit systems that survived this period, most had replaced their PCCs with modern light rail vehicles (LRVs) by the early 1980s. A few sites have only recently concluded operation with PCCs:
The first PCC cars in Canada were operated by the Toronto Transit Commission (TTC) in 1937. By 1954 Toronto had the largest PCC fleet in the world, including many purchased second-hand from U.S. cities that abandoned streetcar service following the Second World War. Although it acquired new custom-designed streetcars in the late 1970s and 1980s, the TTC continued using PCCs in regular service until the mid-1990s, and retains two for charter purposes. These vehicles occasionally enter revenue service to mark special occasions. A number of different models of Toronto PCC cars are on display at the Ontario Electric Railway Historical Society museum, the Halton County Radial Railway, near Rockwood, Ontario. Several are in operating condition and rides are available to the public.
The unique Tandy Center Subway in Fort Worth, Texas, shut down in 2002. A shuttle between a mall and its parking lot, the system used a number of PCCs, but their exteriors were heavily modified in the 1970s, making them largely unrecognizable.
As of 2005, there are still a few places in North America where transit agencies employ PCCs in true revenue service (as opposed to short-run or intermittent heritage railway service). Of these, only one has been in service continuously since the PCC's glory days:
Beginning in the late 1990s, several cities began to make use of historic PCCs to serve historic streetcar lines that combined aspects of tourist attractions and transit:
The F Market Line (historic streetcar service) in San Francisco, opened in 1995, runs along Market Street from The Castro to the Ferry Building, then along the Embarcadero north and west to Fisherman's Wharf. This line is run by a mixture of PCC cars built between 1946 and 1952, and earlier pre-PCC cars. (Although San Francisco had removed PCCs from revenue service when the city's light rail was transformed into the Muni Metro system in 1980, they had made occasional festival trips in the ensuing years before being returned to full-time service.)
The Kenosha Electric Streetcar in Kenosha, Wisconsin, has been operating five PCCs acquired from Toronto since 2000, although service has sometimes been intermittent because of funding issues. The Kenosha Electric Streetcar is unique among modern PCC operations in that that PCCs had not run in the city before 2000—the original rail system was shut down in 1932 before any PCC cars had been built. One of its cars is still painted in its original TTC colours, while the rest have been re-decorated in the liveries of several U.S. cities.
SEPTA restored trolley service to the Route 15 Girard Avenue line in Philadelphia in September 2005 after a 15-year "temporary" suspension of trolley service in favor of diesel buses. The line uses restored and modernized (by the Brookville Manufacturing Company) PCC cars, known as PCC-II's, painted in their original green and cream Philadelphia Transit Company livery, rather than SEPTA's white with red and blue stripes. Modernization included all-new control systems, modern turn markers, HVAC system (which accounts for the noticeably larger roof enclosure), and ADA compliant wheelchair lifts. The line runs from Haddington to Port Richmond down the median of Girard Avenue. It crosses both the Broad Street Subway and the Market-Frankford Line, and stops at the Philadelphia Zoo, among other landmarks. SEPTA had originally planned to run modern Kawasaki trolleys along the line once service was restored, but a combination of economics and a desire to help revive the Girard Avenue corridor with a more "romantic" vehicle led to the agency restoring the old vehicles for about half the cost of new cars. SEPTA uses Kawasaki vehicles on the rest of its trolley lines, including the Subway-Surface Green Line linking West Philadelphia with Center City.
As many cities contemplate new transit projects, PCC-based streetcar lines are an attractive option as they are relatively low cost and can serve as a tourist attraction in and of themselves, especially on routes through historic city centers.
Pre-war tram networks remain largely intact in a number of European cities, and many still use PCCs as part or all of their rolling stock. Late-model PCCs remain in use in Belgium. The vehicles used in Antwerp and Ghent vehicles are metre gauge, while those used in Brussels are standard gauge. One of the peculiarities of the Brussels PCC vehicles is that some of them have been equipped with bogies and electric motors acquired second-hand in the United States from decommissioned streetcars from Kansas City, Missouri, and Johnstown, Pennsylvania.
The tram system of Sofia, Bulgaria has 16 lines totaling 221 km served by 190 trams, some of which are Tatra PCCs. In Romania, Bucharest's extensive tramway network features a large fleet of Tatra T4R PCCs.
Several tramways in the Czech Republic and Slovakia still use Tatra PCC cars, while many in Poland still operate Konstal PCCs. Some in the former East Germany also still use them, but many have been extensively modified.
PCCs in Pop Culture
Edit
Although few cities have run PCCs since 1960, they are still quite identifiable as streetcars and, because of their 1930s-era deco, streamlined design, quite aesthetically pleasing. PCC streetcars were featured prominently in a Dockers ad campaign in which two PCC cars operating on San Francisco's Embarcadero Line pass each other, and a man and woman, after making eye contact, each jump out of their seats, miss the streetcar on the other track only to find that they are united as the cars pull away. Clint Eastwood's character, Inspector Callahan, of SFPD, rode on such a streetcar (livery was typical MUNI green and cream of the early 1970's) on the K-line in a brief scene in Dirty Harry to the Forest Hill Station in San Francisco while attempting to deliver ransom money to a kidnapper.
In late 2007 and early 2008, a PCC car is seen passing by in the background of a Restylane TV commercial.
In Toronto, one subway station, Eglinton West, has two enamel murals, facing each other, depicting PCC streetcars in motion, although these had never served the station.
External links
Edit
References
Edit
Carlson et al. (1986), The Colorful Streetcars We Rode, Bulletin 125 of the Central Electric Railfans' Association, Chicago, Il. ISBN 0-915348-25-X
Kashin, S., Demoro, H. (1986), An American Original: The PCC Car, Interurban Press, ISBN 0-916374-73-4